What's Happening
---
The 33nd Annual WWIB/Sew Complete "Warmth from Wisconsin" Quilt Contest has now been judged!

Congratulations to the winners:
Norma Klotz--1st place Bed Size Quilt and Grand Prize Quilt

Alice Weickelt--2nd place Bed Size Quilt
Sue Kulig--3rd place Bed Size Quilt
Janice Bates--1st place Crib Size Quilt
Sue Kulig--2nd and 3rd place Crib Quilts
There are 2 categories to enter: a smaller quilt, at least 46" x 36" and no larger than 60" x 56" or a bed size quilt 60" x 72" or larger. Participants picked up a "starter" block from Sew Complete. The "starter" block must appear somewhere in the quilt top--it may be altered, but the heart and the words "Warmth from Wisconsin" must remain in tact.
The grand prize winner will receive a $100 cash award from WWIB. The judges awarded 3 gift certificates from Sew Complete in each category. For more information, or a complete set of rules and a starter block, stop in or contact Sew Complete. You may also click here for the contest rules.

The quilts are now packed up and on their way to their final owners, being distributed evenly between the homeless population in San Antonio, TX through Youth with a Mission and Apple Pregnancy Center in Eau Claire, WI.




First place Crib Quilt by Janice Bates





2nd place Bed Size Quilt by Alice Weickelt





2nd place Crib Size Quilt by Sue Kulig





3rd place Bed Size Quilt by Sue Kulig





3rd place Crib Size Quilt by Sue Kulig



We are very grateful to all who have participated in this endeavor in the past. Hundreds of quilts have been given to people who really need them over the years. Here are some more quilts from this year.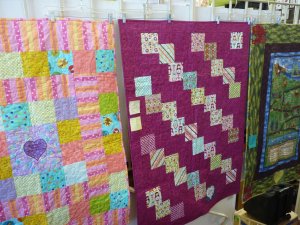 ---
---
Sewing Club
Welcome to Club! Our ongoing theme for our 2023 Club meetings will be "Repurpose, Remake, Reuse, Repair". Of course, we feature many different kinds of projects and techniques beyond the ongoing theme that intertwines throughout the year. At our May Club meetings, Cindi, Pam and Jamie will feature a variety of "mini" projects and techniques using a sewing machine, Scan 'N Cut, and Serger. The next meetings will be held Tuesday, May 1st, at 1 p.m. and 7 p.m; and Saturday, May 6th, at 10 a.m. You may bring your show and tell items, as we love seeing what you are doing. Your reservation for your preferred time will be helpful for our planning. For more information on Club meeting dates and times look for Sewing Club under the "Classes" tab.
We have created this reversible table runner on our serger. We hope you find time to try it and send pictures if you do!
Side A of two different runners
Side B of the same two runners above
If you prefer a sewing machine runner, the following is the reversible runner we made at Izzy's birthday party 2 years ago.
_______________________________________________________________________________________________________
Class Spotlight
"Sew Complete has the pattern for quality and service"